Nov 3, 2016
Illinois criminal law attorney Jeffrey Hall from Peoria helped draft the new cannabis related DUI subsection that appeared in the Illinois Cannabis decriminalization law. (Or should I say, "Illinois's version of decriminalization"?)
In Episode 251 (Duration 42:00), Jeff lets us know what is happening with this new law since it passed.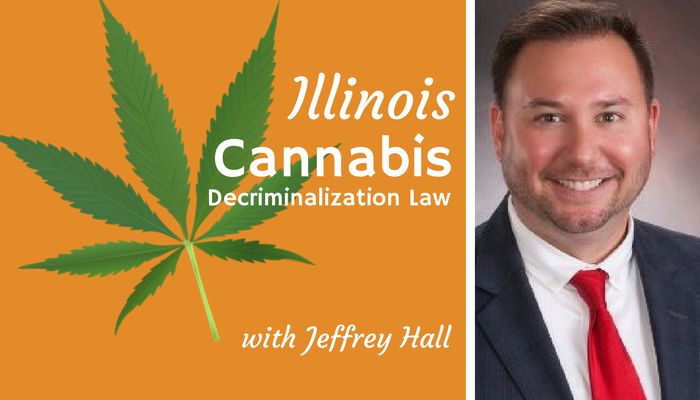 Subscribe: iTunes | Google Play | Android | RSS | Direct Download
iTunes Google Play Android RSS

Jeffrey Hall
Jeffrey R. Hall is a former Assistant State's Attorney from Tazewell County, Illinois. He has been practicing criminal law since 2004. Currently, Jeff continues to concentrate his practice on criminal law and driver's license issues. He is a partner of Hall, Rustom & Fritz, LLC.
Topics Covered
Jeff really rolled up his sleeves and provided valuable insight into the following general topics:
Recap of specific changes to the law
Easy analysis on what happens to charges in the system before a major law change happens
Provides a sample motion for practitioners
Highlights problems and weaknesses with the new law
Addresses the new Illinois Supreme Court Rules on the topic
"Can't Miss" Discussion
Hardcore practitioners are going to have listen carefully. Jeff provides a sample motion and explains how to use it. The sample motion, when filed, helps to ensure defendant's can benefit from the significant changes to possession of cannabis charges. Not only can you find the sample motion on Jeff's blog, you can also download it below.
Additionally, Jeff talks about a helpful tip for anyone fighting off a cannabis related DUI driver's license suspension. Make sure to listen in to capture the benefits of all this information pertaining to the legislation.
Download Jeff's Sample "Motion For Admonishments...And Notice Of Election"
Download this sample motion Jeff uses to ensure his clients charged with possession of cannabis before the law change are able to benefit from the change in the law.
Important Links
Here's What Else You'll Miss By Not Listening...
✓ Easy to remember way to quickly figure if new laws are applied retroactively or not (assuming legislature don't make it clear in the language of the new law itself).
✓ The most creative argument I've seen so far on why courts should not allow cannabis related DUIs charged before the law change to continue after the law change. (Idea here is attributed to Attorney Juliet Boyd.) - Jump to minute 5:08
✓ A great discussion on on a sample motion you can file to ensure your clients benefit from the new possession of cannabis legislation. Jeff provides practical steps, procedures, and outlines exactly how to structure this kind of motion. He calls it a "Motion to Readmonish & Notice of Election..." -
✓ How some prosecutors are arguing the new cannabis law should not be applied retroactively. Funny, defense attorneys are trying to figure out how to apply the DUI statute retroactively while prosecutors are trying to figure out how to apply none of these new laws retroactively. - Jump to minute 15:34
✓ A sneaky little loophole that can be exploited by police and local prosecutors to completely undo all the intended benefits of the new law, including the ability to automatically expunge a cannabis case from your record. - Jump to minute 18:23
✓ New Illinois Supreme Court Rules intended to help guide how to execute these new laws. Things look nice and rosey...that is if the rules are actually followed. - Jump to minute 22:35
✓ One super easy way one thoughtful prosecutor's office is implementing the new expungement procedure. Apartenly "automatic" really can mean "automatic". Jump to minute 26:10
✓ Behind the scenes access to the wheeling and dealing that lead to the birth of the new cannabis DUI subsection (a)(7). The birth of this subsection was the equivalent of a legislative "ugly baby". Learn how such an imperfect statute could come out of the law making process. - Jump to minute 29:30
✓ A "tricks of the trade" pointer for defense lawyers fighting a cannabis related DUI suspension of driver's licenses. (Hint: These cases are always fact sensitive, but the "warning to motorist" has not been updated yet.) - Jump to minute 33:06
<<< See Also: Ken Wang Interview on The Illinois Cannabis Decriminalization Law >>>