May 4, 2017
On March 10, 2017, Curtis Lovelace was acquitted of his first wife's murder. In Episode 334 (Duration 51:50) of the Criminal Nuggets Podcast, Curtis Lovelace lays out the legal lessons from his experience.
Subscribe: iTunes | Google Play | Android | RSS | Direct Download
ITUNES GOOGLE PLAY ANDROID RSS
Earn CLE And Win More Cases


With The Premium Nuggets Podcast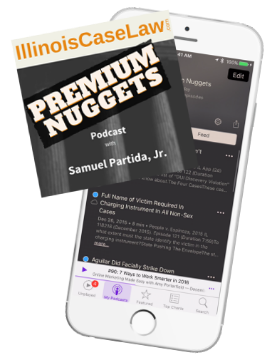 Increase your litigation skills.
Easily identify winning scenarios.
And get the most recent case law updates.
He was falsely accused of killing his wife, was acquitted, and now he's talking about it.
About Curtis Lovelace
Curtis Lovelace is former star football player at the University of Illinois where he was the team captain. He was an Adams County prosecutor from 2005 through 2012.
In 2014 his life changed dramatically when he was indicted for murder.
Bullet History of His Case
Here's a brief summary of the Curtis Lovelace case:
Former star football player
Former prosecutor
First Wife Dies
Autopsy Inconclusive
Lead detective closes the case
Nothing Happens for 8 years
Remarries
Estranged second wife says Curtis killed first wife
Estranged second wife talks to police
New detective takes the case
New examiner recruited
New cause of death determined
Homicide
First trial is a hung jury
First defense team quits
Exoneration Project and Evan Parke join the defense
Released on $350,000 bond after 651 days in custody
Undisclosed emails discovered
Appears detective was "coroner shopping"
Detective admits he destroyed emails
Prosecutors admit detective lied
Found not guilty in second trial
To Learn More...
What's Inside This Episode
✓ What's worse than your wife dieing on Valentine's Day? For Curtis it was when he was subsequently charged with her murder. 651 days is the time he lost away from his family. (Go to 1:18)
✓ A case study in what can go wrong when a pathologist lists the cause of death as undetermined. Seriously, can't they come up with box to check that says undetermined, but not homicide? (Go to case 2:18) & (Go to 8:40)
✓ The world's worst example of "a woman scorned". (Go to 3:40) & (Go to 11:24) & (Go to 23:31)
✓ How an elder care officer makes detective and stumbles upon his first case. (Go to 4:38)
✓ What do you do when your pathologists keep saying the cause of death is something other than a homicide? Naturally, you keep looking until until you find one who says it's a homicide. (Go to 7:25)
✓ When a pathologist opined a women was suffocated completely ignoring the facts as reported by a respected lead detective and other witnesses. (Go to 10:06)
✓ The very first person you'd think a new detective on a case would interview and talk to would be this person. Unfortunately for Curtis, this interview was skipped. (Go to 11:54)
✓ Did the trial court inappropriately admit prior bad acts? Was this a proper application of the law to protect victims of domestic violence or just mud slinging by the prosecution? (Go to 13:27)
✓ The significance of the stolen computer. (Go to 19:20)
✓ For prosecutors the mother-of-all "caught with your pants down" moments came days before the second trial and forced them to tell the judge their lead detective withheld critical evidence. (Go to 25:25)
✓ When criminal litigation is like peeling an onion. (Go to 27:56)
✓ The detective said he turned over the documents to the prosecution, but said he was told to take it back. The prosecutor says he's a big fat liar. (Go to 30:54)
✓ In the end, it was the new detective versus the old detective. (Go to 34:01)
✓ The single biggest lesson here is not for the defense bar but for prosecutors who take law enforcement at their word and don't...(Go to 35:34)
✓ The scary thing here is that the prosecution was an extremely experienced murder trial team. If tunnel vision plagued the investigators then the prosecution added to the fiasco by doing this. (36:52)
✓ The single biggest takeaway and legal lesson for this former prosecutor and criminal law lawyer that has now been permanently chiseled into his legal brain is the following. (Go to 39:59)
✓ Why it's problematic when pathologist know who's paying the bill. (Go to 42:34)
See Also...
Episode 320 With Evan Parke - Behind The Scenes Of The Curtis Lovelace Trial | Attorney Evan Parke Discloses How The Defense Team Made Use Of FOIA
Before You Go…
Case law mastery is crucial to zealous and effective advocacy.
I've come to believe that steady, persistent attention the cases can take any attorney to the next level.
If you're looking for the easiest way to keep up with the cases and ready to master any Illinois criminal courtroom then hit the link below.
Earn CLE And Win More Cases


With The Premium Nuggets Podcast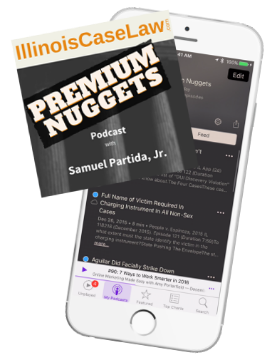 Increase your litigation skills.
Easily identify winning scenarios.
And get the most recent case law updates.