Apr 25, 2018
Episode 481 (Duration 11:39) Police investigations and follow up prosecutions of other police officers involve slightly different constitutional concerns. What are they?
Subscribe: Apple Podcasts | Spotify | Google Play | Android | RSS | Direct Download
APPLE PODCASTS SPOTIFY GOOGLE PLAY ANDROID
Do You Need To Know What The Illinois Court System Is Doing With
Search & Seizure?
(Download The Most Recent Case List)
Clickable 1-Line Summaries.
Everything on Search & Seizure.
Click Below To Download Now.
Click Here to Download
The Search & Seizure Case List
In This Episode...
We discuss the following case:
Garrity v. New Jersey, 385 U.S. 493, 87 S.Ct. 616 (1967).
Gist of the Case
The Supreme Court of New Jersey caught wind of some ticket fixing going in their court system.
They formed an investigation with the Attorney General. This investigation interrogated other officers.
Coerced Officers
The officers under investigation were warned by the Attorney General
(1) that anything he said might be used against him in any state criminal proceeding;
(2) that he had the privilege to refuse to answer if the disclosure would tend to incriminate him; but
(3) that if he refused to answer he would be subject to removal from office. Appellants answered the questions.
No immunity was granted.
When the officer's statements were used against them in the subsequent prosecution they claimed the statements were coerced out of them. Their statements were coerced by reason of the fact that, if they refused to answer, they could lose their positions with the police department.
SCOTUS Said
The Supreme Court of the United States said that the officers were not really given a choice to talk to investigators.
The fear of being discharged under for refusal to answer on the one hand and the fear of self-incrimination on the other was "a choice between the rock and the whirlpool" which made the statements products of coercion in violation of the Fourteenth Amendment.
The choice between self-incrimination or job forfeiture is no choice at all.
The option to lose their means of livelihood or to pay the penalty of self-incrimination is the antithesis of free choice to speak out or to remain silent. That practice is likely to exert such pressure upon an individual as to disable him from making a free and rational choice.
Ain't Police Work Just Like Any Other Job?
The court noted that ordinary citizens don't have constitution rights to their jobs.
To a certain degree everyone accepts employment with restrictions. There are few employments for hire in which the servant does not agree to suspend his constitutional right of free speech, as well as of idleness, by the implied terms of his contract.
The servant cannot complain, as he takes the employment on the terms which are offered him. Similarly, police officers don't have a constitutional right to be police officers.
This may be true, but...
The Issue Here
The issue here is whether the State, contrary to the requirement of the Fourteenth Amendment, can use the threat of discharge to secure incriminatory evidence against an employee.
What's different here is that the employer is the police department.
The police can't force an incriminating statement from a fellow officer no more than they can coerce a statement from another citizen with a claim that they will see to it that they get fired if they don't cooperate with an investigation.
Policemen, like teachers and lawyers, are not relegated to a watered-down version of constitutional rights.
Holding
We now hold the protection of the individual under the Fourteenth Amendment against coerced statements prohibits use in subsequent criminal proceedings of statements obtained under threat of removal from office, and that it extends to all, whether they are policemen or other members of our body politic.
Convictions of these officers were reversed.
Before You Go...
It doesn't matter where you're at in your criminal law practice. Right now you can make a decision that leads to explosive litigation growth.
You can't argue with the idea that steady, persistent attention to the cases increases your litigation game. But what if you could double, triple, even quadruple the number of cases your brain can digest and process?
Are you ready to join the other attorneys who have discovered how to make their ears their secret weapon?
Yes! I'm Ready To...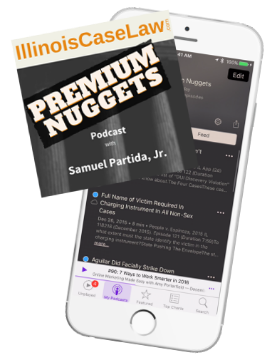 Increase my litigation skills.
Easily identify winning scenarios.
Get fast and efficient case law updates.
The Premium Nuggets is by Invitation Only
(Click Here To Join The Waiting List)