Mar 2, 2018
Episode 459 (Duration 54:23) What do police think about the case law? Do they think about the case law? Matthew Taylor provides some insight.
Subscribe: Apple Podcasts | Spotify | Google Play | Android | RSS | Direct Download
APPLE PODCASTS SPOTIFY GOOGLE PLAY ANDROID
I'm Ready To Start Making Better Use Of My Drive Time And Ready To...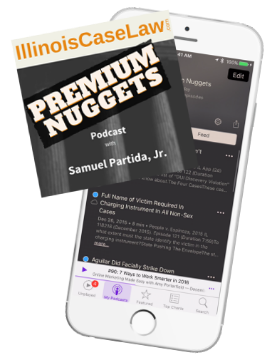 Increase my litigation skills.
Easily identify winning scenarios.
Get fast and efficient case law updates.
The Premium Nuggets is by Invitation Only
(Click Here To Join The Waiting List)
In This Episode...
"I think that they got it right. It shows that the courts are taking an understanding of what an officer has to do on a daily basis and they are deferring more to the officer's inherent and unique skill set..." -- Matthew Taylor
Retired officer, teacher, lawyer and mentor Matthew Taylor provides unique perspective on the criminal law.
Matthew Taylor
Matthew Taylor is retired from the Palatine Police Department. He served as a school resource officer, general patrol, and instructor to other officers on the law. While he was on the force he obtained his law degree and now practices law full time.
Learn More About Matt Taylor...
matt@mjtaylorlaw.com
(847) 894-8038
"Can't Miss" Moments:
✓ All the important details you've forgotten about the landmark case Terry v. Ohio and why they matter. (Go to 3:10)
✓ What the court got write in 1968. Terry stops and frisks were happening before the term "reasonable suspicion" entered the lexicon. (Go to 7:50)
✓ The "perception separation" makes it hard to understand what policing was like before computers. (Did you know call boxes were invented in Cleveland?) (Go to 9:55)
✓ The reason why Terry was important to law enforcement officers. What changed for them? What reasonable suspicion really means in the streets. The beautiful words were... (Go to 12:00)
✓ The facts described in this case are a pretty common and typical scenario. How you feel about the outcome depends on how you see things. (Go to 13:38)
✓ A sure fire way to set off alarm bells in a police officer's head is to do this. "Those alarm bells is what officers call reasonable suspicion." -Matthew Taylor (Go to 16:20)
✓ When rolling up your sleeves is the beginning of a bad day. (Go to 18:44)
✓ "That's a green light and a Christmas gift all in one for an officer to hear that." - Matthew Taylor
✓ "Case law is littered with officers who don't care...that's the burden of every good officer out there, to overcome those officers by doing it right..." - Matthew Taylor (Go to 27:20)
✓ The right way to conduct a police-citizen encounter. What police and attorneys have in common. Why tone and attitude really matter. (Go to 30:44)
✓ The reason why a police uniform can't always be seen as an authoritarian symbol. (Go to 32:15)
✓ How a police officer got a law degree, stayed on the force and became an "officer lawyer." How love for the cases, the law and the constitution turned into a police instructor and scholar. "I'm more of a constitutional enthusiast than I am a scholar but..." - Matthew Taylor (Go to 43:01)
Cases Mentioned
Links & Resources
See Also
You may also want to check out...
Before You Go...
It doesn't matter where you're at in your criminal law practice. Right now you can make a decision that leads to explosive litigation growth.
You can't argue with the idea that steady, persistent attention to the cases increases your litigation game. But what if you could double, triple, even quadruple the number of cases your brain can digest and process?
Are you ready to join the other attorneys who have discovered how to make their ears their secret weapon?
Yes! I'm Ready To...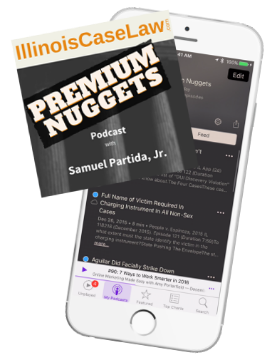 Increase my litigation skills.
Easily identify winning scenarios.
Get fast and efficient case law updates.
The Premium Nuggets is by Invitation Only
(Click Here To Join The Waiting List)