Sep 14, 2017
Criminal Law Attorney Shady Yassin in Episode 390 (Duration 20:45) describes how he's making his way as a criminal law attorney in Illinois.
Subscribe: iTunes | Google Play | Android | RSS | Direct Download
ITUNES GOOGLE PLAY ANDROID RSS
In This Episode
"It was a cool thing that our friendship merged into a business partnership and it was one that became stronger..." -- Illinois Attorney Shady Yassin.
Attorney Shady Yassin
Shady Yassin is a former Cook County Public Defender 711 Intern.
He's been licensed since 2010, and currently is a partner at Abdallah Law located in Tinley Park, Illinois.
In This Episode:
✓ Discover how a first generation Palestinian American finds himself in a firm with other first generation Palestinian Americans. You'll be surprised to learn Shady's parents started out in Puerto Rico.
✓ Ever wonder if the Illinois criminal justice system is welcoming to Muslims? What happens to the daily prayer requirement when you're in the middle of a trial?
✓ On Shady's first day as a 711 for the Cook County Public Defender he was the only one of his kind. As a test he was asked to go into the lock-up to talk to a pretty intimidating defendant. It was a test. Listen in to see if Shady past the test.
✓ "Everybody who is not an attorney is telling me, 'Oh, why are you trying to do criminal defense? There's no money there. Why don't you do business? Why don't you do corporate?' That's all I heard."
✓ Any government sector lawyer with the tiniest thought of going "private" needs to see what Shady means when he talks about the "hustler mentality". Shady has some wise advice on receiving other's advice; we can all benefit from this tip.
Links & Resources
Before You Go...
Case law mastery is crucial to zealous and effective advocacy.
I've come to believe that steady, persistent attention to the cases can increase any attorney's litigation skills.
If you're looking for the easiest way to keep up with the cases and ready to begin having a litigation advantage over your opponents then hit the link below.
I'm Ready To Start Making Better Use Of My Drive Time And Ready To...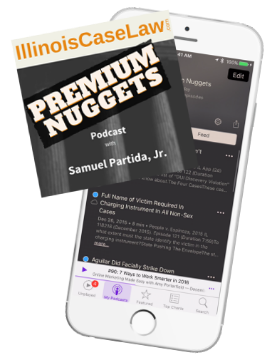 Increase my litigation skills.
Easily identify winning scenarios.
And get the most recent case law updates.
The Premium Nuggets is by Invitation Only
(Click Here To Join The Waiting List)