Jan 17, 2018
Episode 442 (Duration 31:15). Judge Rene Cruz of the 16th Judicial Circuit provides practical advice for attorneys.
Subscribe: iTunes | Google Play | Android | RSS | Direct Download
ITUNES GOOGLE PLAY ANDROID RSS
In This Episode
"...So I'm an army brat. My father was in the military. So we traveled. I happen to have been born in the country of Panama while my father was serving his second tour in Vietnam." -- Judge Rene Cruz.
Judge Rene Cruz
Before taking the bench, Judge Cruz practiced law in Illinois for 17 years with Ed Gil, his former law partner at Gil & Cruz (Now The Gil Law Group). He's now assigned to family court in Kane County.
Judge Cruz did have an extensive criminal law practice before his judgeship, however, we talked about
his experience in the legal community
diversity
the road to a judgeship and
how he's currently serving the community.
"Can't Miss" Moments:
✓ The Judge experienced diversity differently than the rest of us and now thinks of the diversity much differently than the rest of us do. (Go to 3:41) & (Go to 10:58)
✓ Why the judge walked away from a thriving business, a judgeship was the last thing on his radar, so what did he discover that finally motivated him to apply for judge. (Hint: It wasn't the money; he wasn't even sure how much judges get paid.) (Go to 13:41)
✓ The judge didn't know a few important things when he first applied for judge. Once, he figured things out the process went a lot smoother for him. (Go to 15:44)
✓ "Some judges would say to me straight off from the beginning, 'I'm being told and I'm hearing that we need some Hispanics on the bench', and the first thing I would tell them is..." - Judge Rene Cruz speaking about when he was a judicial candidate (Go to 14:27)
✓ What do full circuit judges really look at and consider when they are voting for an associate judge? (Go to 20:00)
✓ Judge Cruz is playing the long game when it comes to promoting diversity on the bench and in law. You'll never guess where he spends his time recruiting and encouraging judicial applicants. (Go to 24:50)
See Also
You may also want to check out...
Before You Go...
It doesn't matter where you're at in your criminal law practice. Right now you can make a decision that leads to explosive litigation growth.
You can't argue with the idea that steady, persistent attention to the cases increases your litigation game. But what if you could double, triple, even quadruple the number of cases your brain can digest, process and learn from?
Are you ready to join the other attorneys who have discovered how to make their ears their secret weapon?
Yes! I'm Ready To...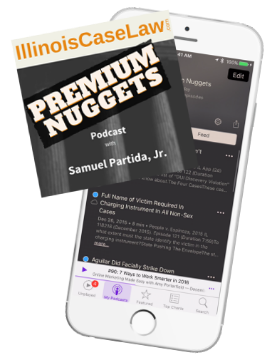 Increase my litigation skills.
Easily identify winning scenarios.
Get fast and efficient case law updates.
The Premium Nuggets is by Invitation Only
(Click Here To Join The Waiting List)